Banks like in most other business, the customers are now more demanding than ever. With the rise of smartphones, Amazon's Alexa, Social Media, and the growth of self-service options both online and at ATMs, there's now an expectation that consumers should be able to complete major banking activities whenever and however they want. Banks are now under pressure to improve and offer more channels. But in today's environment, simply having an online banking solution or self-service options in the contact center is not enough, and this is where banks that have not yet fully embraced OmniChannel need to do so.
What is OmniChannel banking and how does it really differ from 'MultiChannel banking'? The MultiChannel approach came around several years ago, when banks launched online platforms and encouraged customers to use call centers for their everyday banking needs. The number of touch points increased, but with expansion came more unconnected separated silos. Additional channels were bolted on to legacy platforms but many banks struggled to offer a comprehensive approach to servicing customers across all channels. As consumers ourselves, we intuitively know this to be the case. For example, how many times have you been offered an unwanted loan by your branch and subsequently been targeted with the same question while carrying out your online or ATM banking?
The TOP 5 Banking Challenges for Digitization
Intelligent predictions, Big Data, and analytics
Integration of multiple communication channels without silos
Transition from a transaction focus to personalized banking focus
Proactively offer services and products tailored for the customer's situation
Mobile engagement strategy
What is OmniChannel?
Some Banks believe that the MultiChannel solutions they have put in place over the past few years will be adequate to meet there needs, and also assuming that the difference between MultiChannel and OmniChannel is mostly a difference of semantics, but this is far from the truth. Adding options such as online banking capabilities, mobile applications and even social media channels may meet MultiChannel requirements, but if these channels remain in their own silos, they are unlikely to give customers the experience they want.
Well executed integration of channels is the fundamental differentiator between traditional MultiChannel approach and OmniChannel solution. While the two are related, OmniChannel offers a convenient, consistent, and relevant customer experience across all channels and devices.
On a basic level, this could mean ensuring that all channels: phone, intelligent mobile apps, online, ATM, chat and SMS but also web browsers to participate in audio, video, and engage in screen sharing collaboration. Technology now can extend the power of contact center with single browser interface and no mobile app or no download needed. This is offering a consistent interface that allows users to intuitively move from one channel to another. But as banks become more confident with the technology, it can also means ensuring that staff have a complete, 360 degree view of their customer's touch points and history, no matter which channel they chose to use.
This ensures that all services are able to be delivered through all channels, rather than a bank's customer having to speak to an agent on the phone or come to a branch to complete a task. When a bank's customer does call, the contact center agent should know through predictive analytics what the customer's last web searches on the bank's website or any other touch stone in the bank's connected OmniChannel environment.
Millennials are Switching to Banks Over Better CX
OmniChannel abilities are critically important in today's consumer-focused world. Customers – particularly the Millennials – are now much more willing to switch banks, and if they feel a competitor offers a better Customer Experience (CX) when it comes to OmniChannel, they will not stick around out of faithfulness.
Microsoft had a relevant study in 2015 US State of Multichannel Customer Service Study which found 98% of consumers agree that the quality of customer service is an important factor when deciding on brand loyalty. This study also found that customers expect to be able to use a wide mix of channels for interacting with their companies, so it's clear that if banks are to deliver a high-quality experience in today's environment, they cannot afford to focus their efforts on just one or two main channels.
In order to meet the expectations of today's customers, banks will not only have to devote time and capital to improving every channel their consumers may wish to use, but also ensure all these channels are strongly integrated and not isolated silos. This may be a major undertaking for some banks, but it's vital if they are to remain competitive and offer consumers the level of experience they expect.
Banking Customer Experience (CX) is Now Being Automated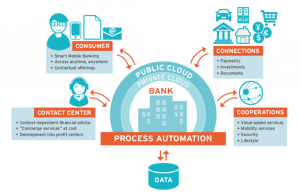 OmniChannel with AI is now the new benchmark. The only way to make these text based questions faster and improve compliance, is by automating the most commonly asked questions, we call "Mass Personalization at Scale". The answer is already here: OmniChannel Case Management and smart AI systems that learn by themselves, how to handle, route or process information and improve themselves continuously based on their results. These tools are not futuristic dreams, but have silently proven themselves over the past 20 years across all industries. Tools, like the AI workflow platform from ITyX which is not only being able to process information automatically but also build the base for other AI featured applications like Predictive Data Analytics.
What we do for you
OmniChannel platform with AI for customer service processes
Many leading banks utilize our self-adaptive AI workflow and integration platform for incoming e-mail, customer service, back office tasks and sales.
Mobile customer engagement completely integrated
In addition to video, chat and co-browsing, social media, e-mail and documents, MOBILE is completely integrated with the service infrastructure and furnishes clear added value for the customer.
Automating the routine tasks frees time for individual relationships
Our worldwide unique AI technology understands text-based content in any format and establishes the context of the customer's situation. It automatically learns the right thing to do in routine cases. You now have more time for the bigger challenges.
Real World Results in Banking


From the customer's perspective, OmniChannel banking continues to offer access to financial services across a variety of channels and introduces more consistent interactions with the banking brand across the various touch points. The bank will be able to analyze the information being fed in from different channels in a single AI platform so that it can build up a detailed and accurate picture of the customer's preferences and behavior. With an intelligent OmniChannel management strategy, you can seamlessly merge your customer touch points. This is precisely where our strength lies. Worldwide, financial service providers rely on our self-adaptive software solutions to bundle incoming e-mail, e-mail response, chat consulting, as well as mobile apps to create added value for customers. This differentiates your bank from the competition. We look forward to speaking with you regarding OmniChannel, AI Platform, Knowledge Management, Discovery Management or anything else.