Not too long ago, the topic of a connected world made many people uncomfortable to say the least. Most people were either frightened or livid at the idea of their personal information being accessible to companies and governments at lightning speed.It seems that the future investors have been imagining this long before it arrived, and now the connected world might actually be a reality.
Consumers have been waiting for pay-as-you-go insurance
Ever since pay-per-mile car insurance was a rumor, it was anticipated that this moment would come. At the time, it was difficult to gauge whether customers would accept a breach of privacy for the sake of securing a better product that costs less.

Are knowledgable and informed customers too much for insurers to handle?
According to PwC, consumers conduct research online before buying insurance.1
For a long time, insurance was thought to be a commodity, a decision based upon price and for the provider, a low margin business. This has contributed to the Insurance Industry getting a bad business reputation. It seems, however, that this era is the one that insurers worldwide have been dreaming about; a time when customers are buying insurance instead of having it sold to them.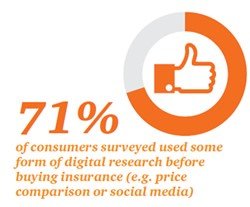 The time has arrived. We've seen companies like Esurance touting "Insurance for a Modern World" focused on users comfortable using the internet for researching, comparing and buying. Today, most customers use the Internet to search for insurance policies instead of going to a broker and being presented with one. Consumers weigh options and features and pick what is best for them. The question now is whether insurers are ready for the day for which they have been hoping.
Is the Digital Insurer Ready?
Many insurers have been having trouble staying in the black since the financial crisis gripped the world. The industry suffers from years of patchwork systems development and under investment leaving gaps in communication and customer service with their prospects and policy holders.
As PwC points out digital natives will begin to dominate; they will dictate the method of communication, transparency, security and access to information. Savvy insurers will embrace this as an opportunity updating infrastructure and business processes providing more value and better services. Every insurer will need to consider whether they are able to provide services customers need with the level of security necessary. When some insurers consider this question, they will be frightened to realize that they cannot. What will happen to those who can't provide these essentials for their customers?
One thing is certain, the change has started and will continue as the digital natives take over the majority. Only insurers that have embraced a digital strategy can expect to thrive.
1 PricewaterhouseCoopers (2014): Insurance 2020: The digital prize – Taking customer connection to a new level. Online